Trip to Curacao and Bonaire 27 May through 24 June 2003
Curacao is the largest of the Netherlands Antilles, with a population of about 150,000, 80% black descended from the freed slaves of the Dutch plantations. The official language is Dutch, which is what is taught in school, but about 90% of the whole population speaks a dialext called Papiamentu, which is a combination of Portuguese, Dutch, and some African words. We should have learned it before we went, because English was by no means universal. I got by OK in Spanish, and Marc and Shea used me for an interpreter. The industries are shipping, tourism and refining gas for Venezuela, and they need to get much better at tourism.
Curacao--the view we woke up to at AllWest Apartments

And the view that night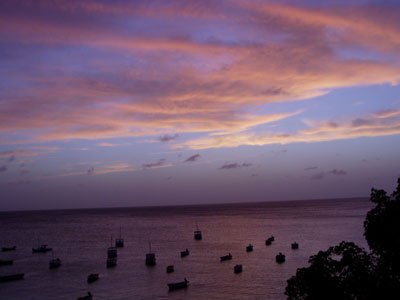 Local fisherman hunting the elusive masbangu, which apparently comes out only in June. It's a small silver fish caught in nets, which the whole family sets out at night and the whole family gathers up again at dawn, with much shouting of, "Wada wada wada!" which means, "Wait wait wait!". We naturally called this the wada wada fish. It's fried whole, and eaten the same way. I have no idea what one looks like, except we saw large schools of something that looked like large minnows near the pier that afternoon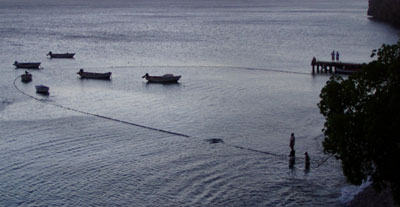 The waterfront in Willemstad, capital city of Curacao. Dutch architecture with Caribbean colors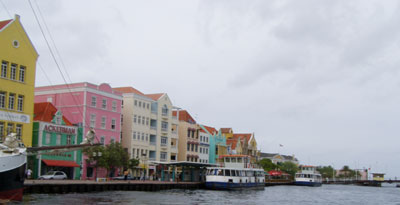 Marc and Shea at a street cafe, Plein Cafe Wilhelmina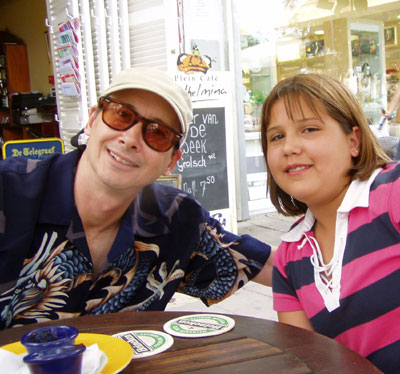 Kabritu Stew on the hoof, or, The Goats of Curacao (they were everywhere)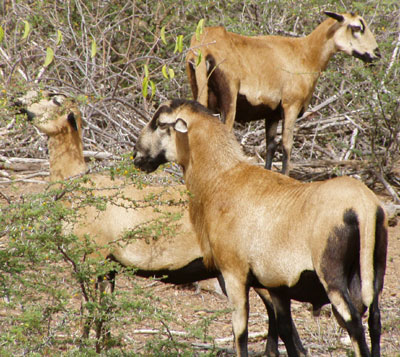 A very pretty spot on the Western Route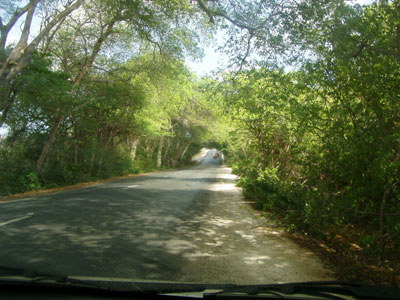 But most of the island looked like this (Western Route overlooking St. Willibrordus)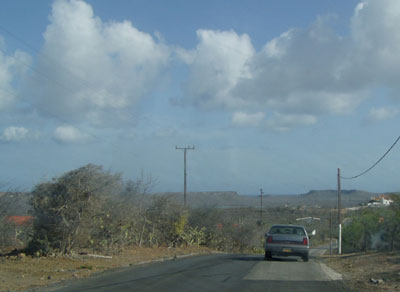 Which is not to say it wasn't pretty (Playa Lagun)

And another view (Santa Margherita Baai)

We had the most fun with the birds (well, after the fish). These flamingos were most annoyed with the brown pelican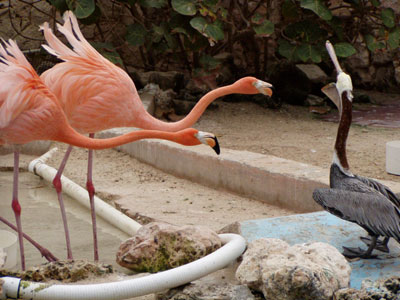 Every morning we woke up to trupials, a kind of oriole. Maybe it's because we fed them? They're all puffed up because they're fighting over the banana. (Doesn't it look like the bluebird in Shrek just before it pops?)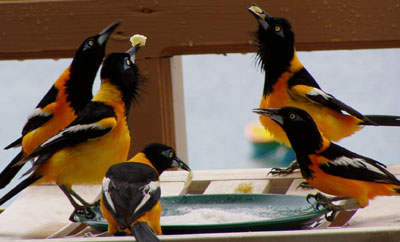 We also had two other types of birds who ate sugar and bananas (thanks for the tip, OC!), a yellow oriole and a bananquit, which is a kind of finch. The trupials were the largest, though. Maybe 12" long, tip to tail

We visited Hanchi Snoa Synagogue, the oldest continuously used synagogue in the Western Hemisphere. Built in 1732. The floor is covered with sand, to commemorate when Jews had to have their religious meetings in secret, because of the Spanish Inquisition. A beautiful and serene place. Curacao, BTW, is totally religiously tolerant. Catholics, Jews, Muslims, Sikhs, Hindus, Voodoo, you name it, they co-exist. We saw 'em all.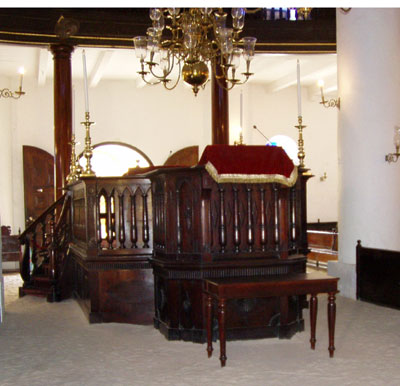 And we leave Curacao, headed for Bonaire. Good night!

Bonaire is the smallest of the Netherlands Antilles, after Aruba. It was beautiful and friendly. Its main industries are tourism and sea salt production.
Here is one of the salt pans. They actually are this color, and the pink bacteria gets into the brine shrimp and makes the flamingos pink when they feed in the pans.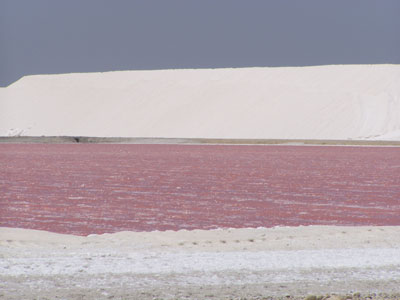 In the old days, these pans were worked by about 100 slaves, who lived in small huts and then went home to their families on the weekends in the interior of the island. (That's all the slavery that ever was on this island, and it's much happier than Curacao for having little plantation background)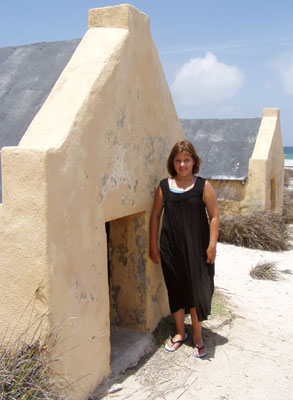 There were birds all over this island too, mostly flamingos. It is one of the 5 breeding grounds in the world for them. They were around every turn and bend in the road, wherever there was water, but largely in salinas or salty lakes.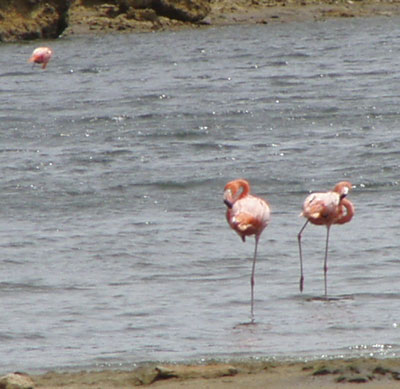 Typical Bonaire street scene, Divi Divi tree and goat. You can always tell which way is west, because that's the way the divi trees point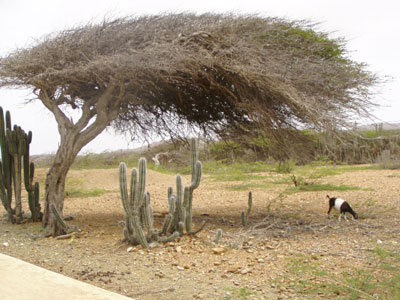 Traffic jam in Rincon

Another typical scene, divi trees and donkeys. There are about 500 wild donkeys on the island, and they cause traffic jams, eat gardens, and are generally a nuisance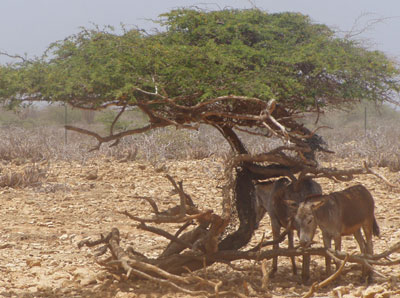 For some reason, the donkeys all loved Shea's shoes!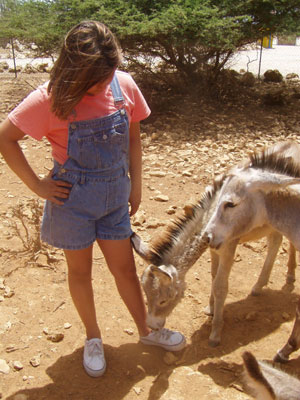 We went to Washington-Slagbaai National Park, which had this interesting scene at a watering hole. Guess you can't pick your friends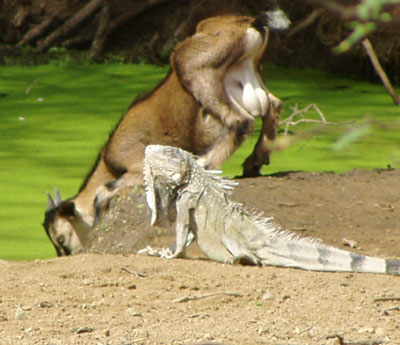 They like people too - because visitors feed them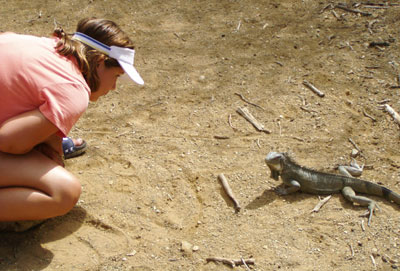 Shea decided to retreat and let this one have the rock she was sitting on (especially because reinforcements were arriving for its side!)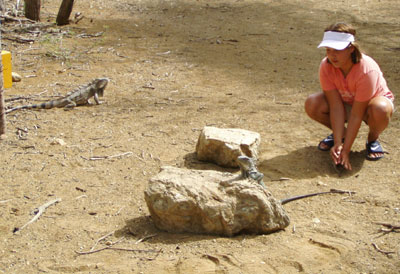 Up close and personal

Too close...a little too close!

The wind blows around 15 knots day in and day out, 365 days a year. This is the windward side, and as you can see, no one swims here

The obligatory island hairdo...someone had to do it, and mine was way too short!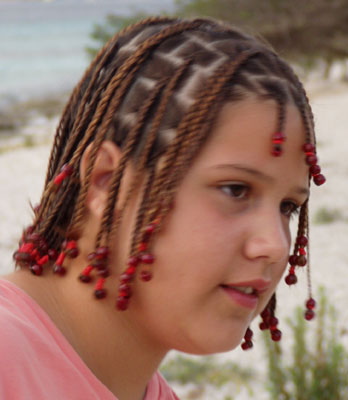 And now we leave Bonaire...I hope to come back someday soon and stay longer. It's a quiet place, but we loved it!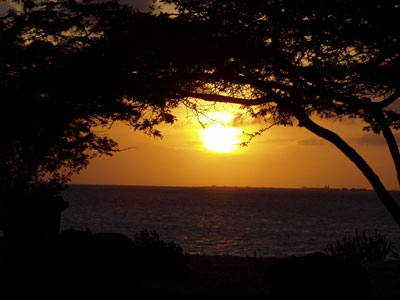 It was like a gateway to another time...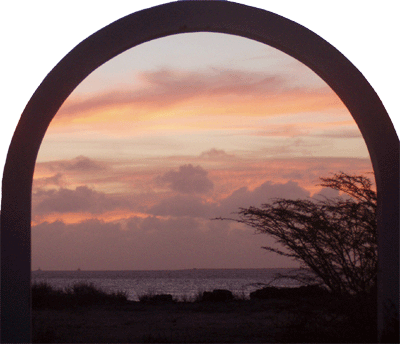 (Couldn't help myself.)
Hope you enjoyed this presentation!
--Lynne and Shea